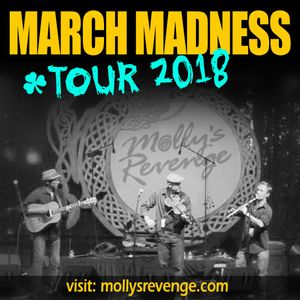 To the three members of Celtic band Molly's Revenge, "March Madness" means something other than basketball playoffs. Indeed, for all players of traditional Irish music, the month of March means making hay while the sun shines, for March 17 is the date when Irish people all around the world love to celebrate the venerable Saint Patrick. And since they can't be everywhere on one day, Molly's Revenge will once again be crisscrossong the West Coast for much of the month. Hence the nickname of their annual tour: March Madness. 
The California-based folk combo will also celebrate their own longevity in March, as their first gig happened on a fateful St. Patrick's Day some 18 years ago. Piper David Brewer is the only original band member, but fiddler John Weed and guitarist Stuart Mason joined up after the first couple years. Front man David Brewer, also known as the "hyper piper," leads the charge with an authentic and unique style of playing that has earned him the reputation of being one of the most accomplished pipers on the West Coast.  
Complete tour schedule here: MARCH MADNESS TOUR
Molly's Revenge is a dynamic, acoustic Celtic band known for its unique and infectious enthusiasm. The classic combination of bagpipes, whistle, and fiddle, with a backdrop of guitar, mandola, and bodhran guarantees an enjoyable experience for all fans of Scottish and Irish music. Molly's Revenge has performed at many of the top folk festivals and performing arts events in the USA, and prestigious events in Scotland, Australia and China. Their arrangements of traditional Celtic jigs and reels bring these dance tunes up to date with a driving, hard-edged accent that always leaves audiences shouting for more.