Dearest friends, fans, family, and other Mollycules,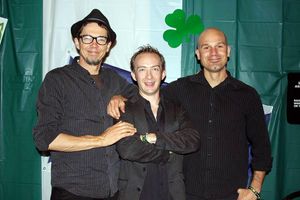 A message from the three of us at Molly's Revenge. It is with great sadness that we announce the cancellation of the remainder of our 20th Anniversary Piper's Farewell Tour. You all know the reason -- a global pandemic of epic proportions--so we won't go into that, but we need to say goodbye to our piper David Brewer because we won't be able to do it publicly as we had planned. And we need to stay connected with all of you. 
Folk music brings people of all kinds together. It enables a sense of community and warmth that's all too rare in the modern world. But now, they tell us to stay home and practice "social distancing." This is contrary to everything we stand for as a band. John and Stu feel disappointed and deflated that we cannot complete this final run of shows with David. Something has been left undone. It will leave a hole in our hearts if not completed. 
At this point, we don't know if some or all of the cancelled dates will be rescheduled. If you're on our mailing list, we will keep you posted. David is moving on to new things, but our annual Winterdance Celtic Christmas Celebration will go forward as usual in December. Please make sure you have signed up for newsletters from our other bands so we can see you in the future: 
Until then--stay safe and Happy Saint Patrick's Day! 
--David, John and Stu of Molly's Revenge